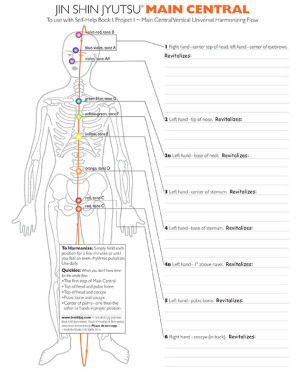 This chart, along with an instruction sheet, is designed to help you learn the Main Central Vertical Universal Harmonizing Flow, using the Jin Shin Jyutsu Self-Help Book 1. The process of creating the chart helps you to learn how and when to use the Main Central sequence of holds, or a particular hold, to restore balance. The chart includes a color diagram of the Main Central Vertical Universal Harmonizing Flow, bonus correlations you won't find in the book, and space to fill in the benefits of each hand position. Once complete, you will have an easy-access reference chart.
Main Central Study e-Chart* with instruction sheet (2 pages) $2.50
*Requires Jin Shin Jyutsu Self-Help Book 1. To order the book or to find a JSJ self-help teacher in your area for a classroom experience, visit jsjinc.net.
After completing your purchase, you'll promptly receive a link to download the e-chart. If you don't see it, check your SPAM and Junk mail folders. You can download the chart once: download the chart before viewing or printing it. Be sure to download to a device that you can then print from. For best results, print the e-chart on a color inkjet printer.
Main Central Study Chart © copyright 2014, Karen Searls. All rights reserved. The Main Central Study Chart with Instructions is for your personal use and does not come with distribution rights. No part of this chart may be reproduced, stored in a retrievable system, or transmitted in any form or by any means – electronically, mechanical, photocopying, recording, or otherwise – without written permission of the copyright holder.
Click to expand order form
Materials
$0.00 – $12.50
Purchases are made through PayPal using your credit card, debit card or your PayPal account or charts may be purchased by check, when drawn on a USA bank.