The materials presented here were created to assist in the study and practice of Jin Shin Jyutsu and will be helpful to both students and practitioners.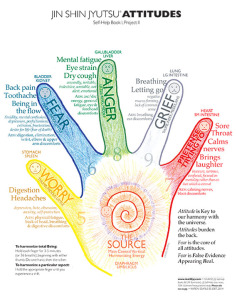 With a background in graphic design and a desire for clear understanding and communication, making visually engaging and comprehensive charts is my preferred mode of study. These electronic charts and study guides are a culmination of my studies of Asian healing modalities, as well as a variety of esoteric, mystical and spiritual texts (see sidebar). There are many common themes within these studies and where there are differences I have aligned with Jin Shin Jyutsu.
On each e-chart, I have noted the most relevant sources with an emphasis on the Jin Shin Jyutsu materials. I would not have room to list all the books, classes and teachers that have added to my understanding of Jin Shin Jyutsu. These e-charts represent my best understanding at this time; a snap shot in an ever-evolving awareness of the Art.
After completing your purchase, you'll promptly receive a link to download the e-chart. If you don't see it, check your SPAM and Junk mail folders. You can download the chart once: download the chart before viewing or printing it. Be sure to download to a device that you can then print from. For best results, print the e-chart on a color inkjet printer.
I trust the charts and study guides will be helpful to you. Have FUN!
…studies continued, I began making charts on the computer to allow me to easily make variations and to incorporate new information into existing charts.
M y library of resources broadened to include all the Jin Shin Jyutsu books published in English and notes from many classes. As confidence in my knowledge and understanding of JSJ grew, I looked back to my training in shiatsu and reiki which included study of traditional Chinese medicine, acupuncture, 5-element theory and Western anatomy. Jin Shin Jyutsu also sparked a renewed interest and expanded my study of astrology, the Tarot and other esoteric, mystical, and spiritual traditions and texts. Exploration continues, correlations abound and study is always FUN.