The Organ Function Information Set is made up of 12 pages, one for each of the organ function flows. Each page puts the details and correlations related to a particular organ flow in one place, making it easier for you to quickly connect that organ function with what you are hearing/observing/feeling with a client. (See the sample page below.)
Each page has two columns. The left column has categories of information that are consistent from page to page, such as time of day, color, astrological sign, impetus, quick take on harmony/ disharmony, critical age, and quickies for harmonizing, as well as the associated depth and its various correlations.
The right column is more variable in its content, generally including the character associated with a particular organ function, what it looks like in harmony and disharmony, projects that benefit from the flow and notes about an organ function that might elucidate a better understanding of the flow. Some of this material comes from published resources; much of it is from class notes and personal study and is, therefore, not comprehensive in the sense that it is limited to the teachers, classes and books I've connected with.
Each organ function page can be trimmed and added right in to your text for quick and easy access while you are working. There is also room on the 8.5 x 11 page for a three-hole punch in order to put the pages in a standard-size notebook, if you prefer.
Organ Function Flow Information e-Set (12 pages) $12.50
After completing your purchase, you'll promptly receive a link to download the e-chart. If you don't see it, check your SPAM and Junk mail folders. You can download the chart once: download the chart before viewing or printing it. Be sure to download to a device that you can then print from. For best results, print the e-chart on a color inkjet printer.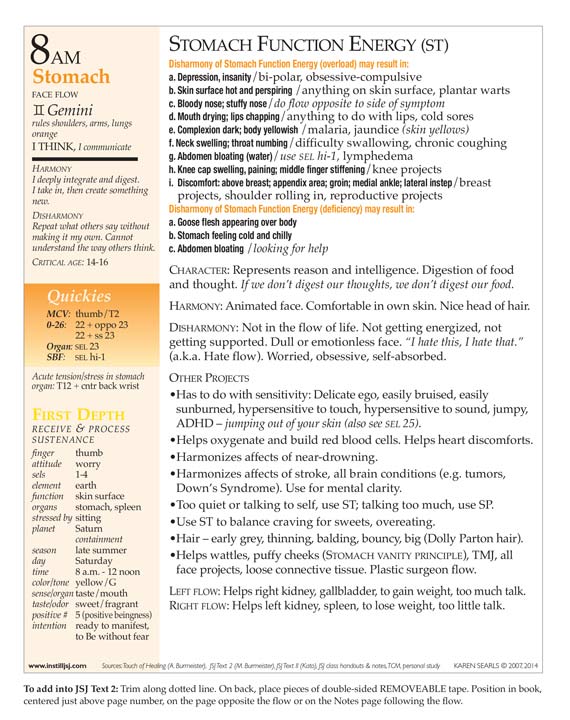 Organ Function Information Set © copyright 2014, Karen Searls. All rights reserved. The Organ Function Information Set is for your personal use and does not come with distribution rights. No part of this chart may be reproduced, stored in a retrievable system, or transmitted in any form or by any means – electronically, mechanical, photocopying, recording, or otherwise – without written permission of the copyright holder.
Click to expand order form
Materials
$0.00 – $12.50
Purchases are made through PayPal using your credit card, debit card or your PayPal account or charts may be purchased by check, when drawn on a USA bank.